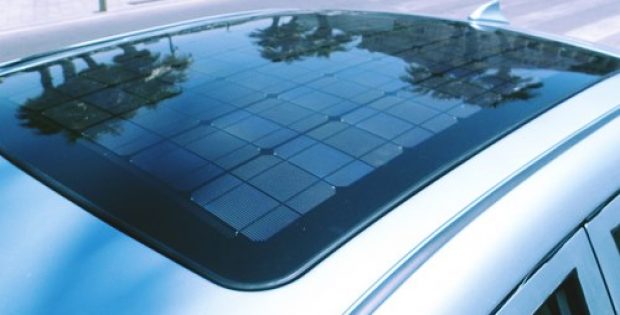 Hyundai and Kia have reportedly announced a new solar-panel roof for cars which is set to debut next year. Electric vehicle manufacturers offer consumers a number of choices when it comes to the source of energy for powering their vehicles and experts say that although adding solar panels to the roof of vehicles directly could produce energy on the go, it may not be quite efficient.
Apparently, the major problem with adding solar panels on the roof is that it cannot generate enough energy to power much of the vehicle functions. Previously, Toyota had an optional solar roof on its earlier PHEV Prius, though it generated only 50 W and powered the fans for the AC. However, a number of automakers are seemingly moving ahead with new systems that could be capable of adding some energy to the batteries for powering the vehicle.
The latest automakers to advance on the initiative, Hyundai and Kia, are allegedly developing three different solar cells for all types of vehicles, ICE to all-electric. The first-generation technology would be for hybrid cars, while the second-generation comes for the ICE vehicles with a semi-transparent solar roof system. The third generation technology will be included in a battery electric vehicles with a lightweight solar roof, the companies informed.
Jeong-Gil Park, Hyundai's Executive Vice President of Engineering and Design Division, who is also the developer of the technology, mentioned that the company expects to witness various types of energy-generating technologies integrated into its vehicles in the future. Park added that designing this technology for vehicle owners will help them to shift from being energy users to energy producers.
The solar cells in the electric vehicles would be semi-transparent and will probably enable a glass roof. The companies confirmed their plans to launch this technology in vehicles as early as next year.