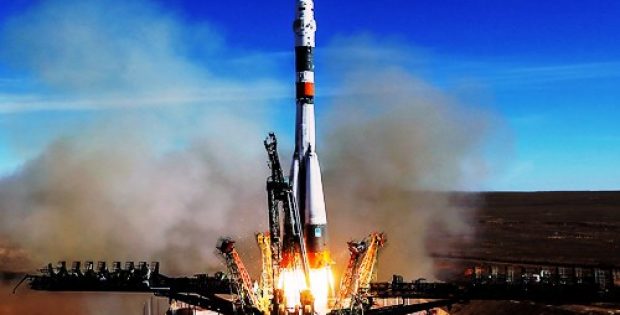 The carrier rocket delivered two Russian Kanopus-V remote sensing satellites along with 26 other foreign spacecrafts into the orbit.
The Kanopus-V satellites would be monitoring natural & technogenic disasters and other emergencies.
The Roscosmos State Corporation for Space Activities (Roscosmos), Russia's state-owned space flight and cosmonautics agency, has reportedly announced that it has successfully launched the Soyuz-2.1a carrier rocket from the Vostochny Cosmodrome in Russia's far-east region.
Reports cite, the Soyuz-2.1a was carrying two Russian Kanopus-V satellites along with 26 other small foreign spacecrafts. The carrier rocket was tasked to deliver these satellites into orbit.
According to a report by Spaceflight Now, the two Russian remote sensing satellites, named the Kanopus-V 5 & Kanopus-V 6, would be assisting the Government of Russia in mapping, disaster response as well as detecting calamities such as forest fires. The satellites were the two largest payloads onboard the rocket, the remaining 26 spacecrafts came through rideshare arrangements made by GK Launch Services, part of Roscosmos' subsidiary Glavkosmos, that provides launch services on the international commercial market & ECM Launch Services, a German rideshare services company.
The Roscosmos space agency, in a statement following the launch, reportedly stated that the launch of the Soyuz-2.1a carrier rocket was carried out successfully and according to the scheduled time. The agency further elaborated that nine minutes following the launch, the Fregat upper-stage carrying all the payloads would detach from the rocket carrier's third stage. Approximately an hour following the detachment, the Fregat would deliver all of its payload into the orbit.
Reports claim, among the 26 foreign spacecrafts, 12 were U.S. Dove satellites, 8 were U.S. Lemur spacecrafts, a GRUS spacecraft from Japan, a ZACube-2 spacecraft from South Africa, KA Lume-1 from Spain and UWE-4, D-Star ONE (Sparrow) and D-Star ONE (iSat) from Germany.
According to reports, this was the fourth launch carried out from the Vostochny Cosmodrome.